Basic Osaka and Japan Info
COVID-19 Information
On April 29, 2023, the Japanese government removed all COVID-19-related requirements for entry into Japan. Travelers are no longer required to present a vaccination certificate or a negative result from a pre-departure test. However, those entering Japan with symptoms of suspected COVID-19 infection will be tested upon arrival.
For the most up-to-date information:
Border Measures|Ministry of Health, Labour and Welfare|Government of Japan
On March 13, 2023, the Ministry of Health, Labour and Welfare (MHLW) removed official recommendations to wear masks in Japan, leaving the choice to wear a mask up to the individual user. For the most up-to-date information on the status of COVID-19 in Japan, please refer to the official MHLW site:
Novel Coronavirus (COVID-19)|Ministry of Health,Labour and Welfare|Government of Japan
For smooth entry into Japan at customs and immigration and to take advantage of tax-free purchase options, register your documents and details with the Visit Japan Web page:
Visit Japan Web | Digital Agency
Osaka for Beginners
Geography and Demographics
Osaka is located on the main island of Honshu, roughly in the center of Japan. Osaka City, which was incorporated in 1889, has a population of 2.69 million and an area of 225.21 square kilometers. Osaka Prefecture, which includes Osaka City (its capital) and 42 other municipalities, has a population of 8.7 million (as of February 2023) and a total land mass of about 1,905 square kilometers. Although Osaka is Japan's second smallest prefecture by size, it is the third most populous prefecture after Tokyo. Furthermore, nearly 9% of all non-Japanese residents live in Osaka.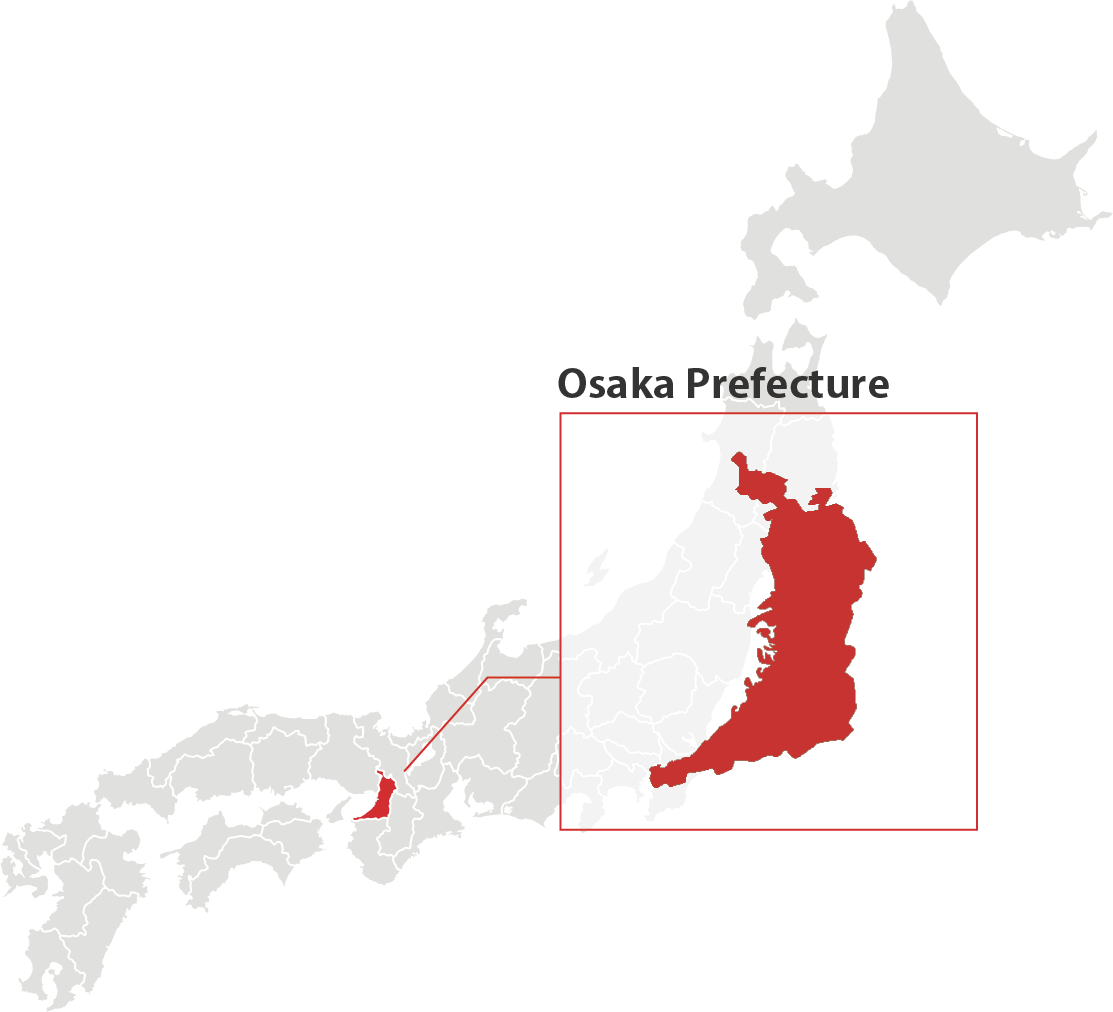 Osaka City itself is largely divided into two areas: the Umeda area, called "Kita," and the Namba/Tennoji area, known as "Minami."
Climate
Osaka, as well as the rest of Japan, has four distinct seasons. Osaka itself has a generally mild climate, with mild winters and hot, humid summers. Most rainfall occurs in May, June, July, with rainy season at its peak in June, and typhoon season occurring in peak during August and September. However, typhoons are regular occurances in Japan and rarely have a significant impact on travel itineraries.
See more information on Japan's climate here:
Climate of Japan | Japan Meteorological Agency
Currency
Cash
The official currency of Japan is the yen (\ or JPY). While cashless initiatives have rapidly advanced in recent years, visitors may run into situations where only cash is accepted. Japanese yen has both paper bills and coins. Bills are divided into 1,000 yen, 2,000 yen, 5,000 yen, and 10,000 bills while coins are minted in 1 yen, 10 yen, 50 yen, 100 yen, and 500 yen coins.
Currency exchange stands are available at Kansai International Airport. See here for a full list:
Currency Exchange | Kansai International Airport
Visitors can dispense cash at many ATMs nationwide, including those at convenience stores such as Seven Eleven, Family Mart, and Lawson, where most offer English-language guidance menus. Branches of major banks may also exchange foreign currency.
Check up-to-date currency exchange rates here:
Xe Currency Converter - Live Exchange Rates Today
Popular contactless payments, such as Apple Pay, are accepted at many locations. IC transportation cards can also be used for shopping in addition to contactless payments for rides on public transportation. Examples these IC cards include Icoca, Suica, and Pasmo, and can be issued at most train stations with a refundable \500 deposit.
Consumption Tax
In general, there is a 10% consumption tax on all purchases made in Japan with some exceptions for food, newspapers, etc. Visitors staying in Japan for less than 6 months can purchase some or all items tax-free in shops with this sign:

Be sure to have your passport with you when shopping to receive the tax exemption.
Tipping
Japan does not have the custom of tipping for service, including at restaurants and hotels, as excellent service is considered an integral part of Japanese omotenashi ("hospitality.") Tipping any amount is not recommended as it may be refused, so instead thank your accommodation or restaurant for the excellent service.
Getting Into and Around Osaka
Located at the center of Japan's land, sea, and air transportation networks, Osaka provides an ideal environment for business, logistics and tourism. Osaka's sophisticated infrastructure ensures excellent accessibility to and from major domestic cities as well as Asia and the rest of the world.
Osaka Free Wi-Fi
In anticipation of the upcoming Expo 2025 and potential integrated resort (IR), the Osaka Convention & Tourism Bureau has worked to make Osaka a more convenient destination with the installation of thousands of free Wi-Fi access points across the prefecture.
See more information and find access points on the official website:
Osaka Free Wi-Fi
Media and Filming in Osaka
Filming in Public Areas
While filming and photography with smaller handheld cameras in general does not require prior permission when filming in public areas, for safety reasons productions involving film crews or larger devices such as tripods will need almost certainly need written permission from local street councils and/or police, etc. Please consider hiring a local production company or freelance coordinator, regardless of size of production.
Drone Usage
Using drones within Osaka can be permitted, but all types of drones and other flying objects weighing over 100 grams, including those for photography and filming purposes, must be registered with national authorities. Flying over densely populated areas, which includes much of Osaka prefecture, is also prohibited so please confirm in advance.
See more information here:
Unmanned Aircraft Registration Web Portal
Support from the Osaka Convention & Tourism Bureau
To feature Osaka as a travel destination in your media or publication, contact us to see how we can provide information and support:
Contact Us
For using Osaka as a location for TV or film, please contact our Film Council:
Osaka Film Council
Other Useful Information
Tourist Information Centers
Our three tourist information centers stationed at Osaka Station, Shin-Osaka Station, and Nankai Namba Station provide both Japanese and international travelers with hospitality and support for a comfortable stay in Osaka. Staff provide sightseeing and travel information for destinations and attractions across Osaka prefecture, and even accommodate Osaka-based "micro-tourism," a recent trend towards day trips and local travel.
Tourist Information NAMBA
The Tourist Information NAMBA, located on the 2nd floor of Nankai Namba Station with convenient access from Kansai International Airport, is a great source of sightseeing information on Osaka's popular Minami area.
Tourist Information SHIN-OSAKA
When you arrive in Osaka by shinkansen bullet train, go to the Tourist Information Center first. Everything from sightseeing information to discount ticket sales available at the convenient one-stop service.
Tourist Information OSAKA
Located in front of the central ticket gates of JR Osaka station - one of Japan's few transportation hub terminals - the tourist information center is open daily for the use of both domestic and international travelers. Connected with the JR information desk.
Disaster Preparedness
Japan, along with other countries along the outer ring of the Pacific Ocean, is prone to frequent earthquakes ranging in seismic intensity and tsunamis, as well as inclement weather such as typhoons. While the chances of a tremor or other natural disaster affecting your itinerary are slim, it is always recommended to be prepared with official safety tips for natural disasters and inclement weather.
See more information on JNTO's disaster preparedness Site:
Safety tips for travelers