Message from the President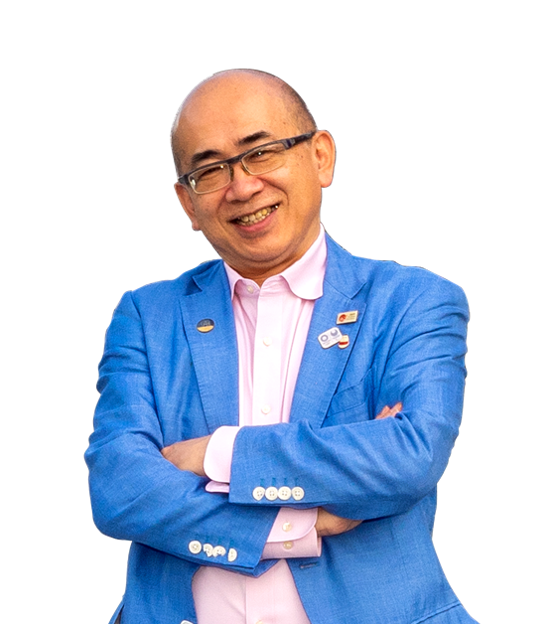 Asia's Number One International Tourism and Culture City: this is our vision for Osaka and the goal we work to achieve together with the rest of Japan!

Osaka, celebrated as an aqua metropolis for the many rivers that flow through it, is renowned for its rich history and its cultural offerings. Osaka was established as one of Japan's very first capitals in the 7th century and evolved into the central port city through which people across the nation exchanged goods, ideas, values, and traditions, also giving rise to a hearty food culture. Osaka developed as a city of commerce where people tackled new challenges to achieve even greater successes. Osaka's 1,500-year history has given it renowned historical and cultural properties, such as the Mozu Tombs world heritage sites or the traditional theater arts of noh, kabuki, and bunraku. And with popular destinations such as Kyoto, Nara, and Kobe just next door, the region is overflowing with captivating sites and attractions to explore.

Along with Expo 2025 Osaka, Kansai, Japan and a potential IR (integrated resort) on their way, Osaka is also packed with exciting future plans such as the redevelopment of the area surrounding Osaka Station, and the construction of a railway network that connects Shin-Osaka Station to Kansai International Airport. Developments such as these position Osaka as the face of Japan's future and are increasingly attracting international attention.

At the Osaka Convention & Tourism Bureau, our work is not limited to just tourism; we take on a leading role in contributing to urban, economic, and cultural development to help local areas discover their charms. We aim for Osaka to become Asia's Number One International Tourism and Culture City, a destination that rivals major cities like New York, London, Paris, and Rome.

We are an organization that uses Osaka as a platform to promote Japan to the world; we strive to become a showcase of all that Japanese tourism has to offer. To achieve this goal, we collaborate with regions and destinations across Japan and a wide range of industries to create exciting and innovative content. Gathering expertise from many different fields, we engage in industry-leading initiatives such as data marketing, greenery and the environment, LGBTQ travel, international student support, and bringing in high value-added meetings and events that have a long-lasting and wide-ranging effect on Osaka. Moving forward we will continue to be a showcase for how new trends in tourism should be tackled as well as how to enhance a destination's assets, and we will continue to challenge ourselves so that we may be a dependable source of energy and a role model for the rest of Japan.

The Osakan people are known for their cheerfulness, passion, hunger for success, eagerness to take on new challenges, and flexibility and open-mindedness to accept diverse peoples and ideas. Especially during COVID-19 and in anticipation of the post-COVID-19 era, it is these characteristics that make Osaka the leading player in Japanese tourism.

We work with our partners across Japan to make Osaka a good place to live, work, study, and travel. We invite you to visit Osaka, learn more about what it has to offer, and help us tell the world about what makes it Asia's Number One International Tourism and Culture City.
Together we will bring energy not only to Osaka, but to all of Japan!
Hiroshi Mizohata
President, Osaka Convention & Tourism Bureau